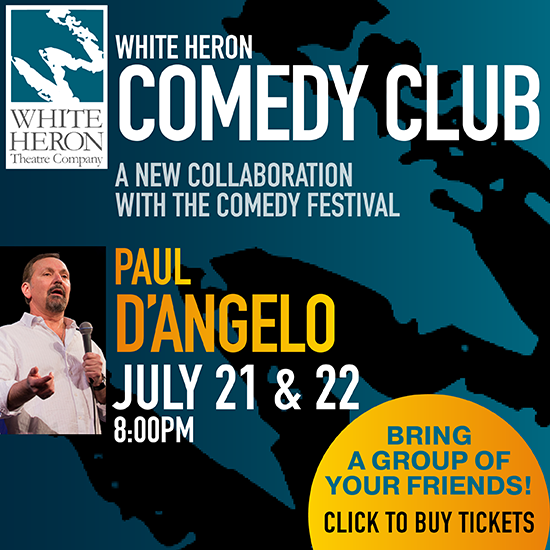 Comedy Club: Paul D'Angelo
Friday, July 21 & Saturday, July 22- 8:00 PM
Tickets: $39
Comedian Paul D'Angelo is a former assistant district attorney and criminal-defense trial lawyer who has been headlining A-List comedy clubs around the country for over thirty-five years. He has performed at many other famed entertainment venues, ranging from the legendary Friar's Clubs and the Waldorf Astoria's main ballroom in New York City, to the main showroom at Harrah's Casino and Caesar's Palace; has entertained hundreds of prominent corporate clients; and has opened for over sixty international stars such as Aretha Franklin, Ray Charles, The Beach Boys, Chicago, The Doobie Brothers, Tony Bennett and Tom Jones. He co-starred in the Showtime movie, The Godfathers of Comedy and is also the author of six hilarious books that have won numerous literary awards.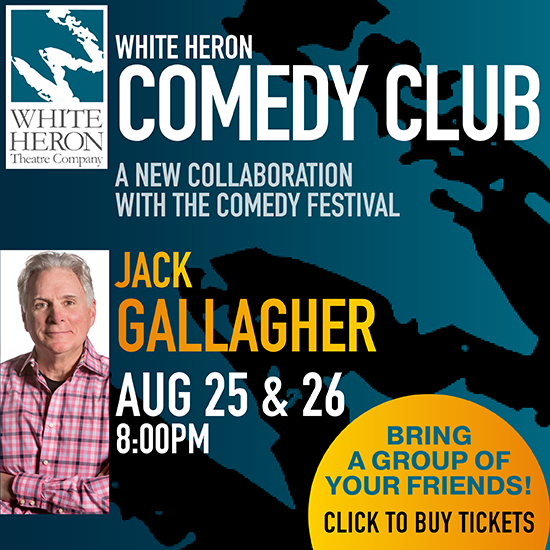 Comedy Club: Jack Gallagher
Friday, August 25 & Saturday, August 26- 8:00 PM
Tickets: $39
For most of his life, Jack Gallagher has been entertaining.First as a kid for his family and then for his friends and teachers at school. Jack started his professional comedy career in Boston during the early 80's. As part of that explosive comedy scene, Jack helped establish such clubs as The Comedy Connection, Stitches and the legendary Ding-Ho Comedy. After moving to Los Angeles, Jack became a regular at The Improv and added big screen credits to his resume by landing a major role in the feature film Shakes the Clown with Bob "Bobcat" Goldthwait. He has also appeared in Heartbreak Ridge with Clint Eastwood and was featured in the made for television movie Incident at Ruby Ridge. Jack can currently be seen as the co-host of the popular nationally syndicated Public television show MoneyTrack. Gallagher's work on network television includes his own ABC sitcom Bringing Up Jack as well as a recurring role on the HBO Original Series Curb Your Enthusiasm. A favorite of talk/variety show hosts and audiences, Jack made numerous appearances on The Tonight Show with both Johnny Carson and Jay Leno as well as NBC's Late Night with Conan O'Brien. In addition to headlining virtually every major comedy club in the country, Gallagher has appeared in concert with Dolly Parton, The Four Tops and Tony Bennett to name a few. Jack has written eight critically acclaimed one-man shows "Letters to Declan," "Just The Guy," "What He Left" and "A Different Kind Of Cool", "Complete and Unfinished","5 Songs", Concussed: Four Days In The Dark and A Stand-up Guy". Jack is a three time Emmy award winner for his work as host of the PBS shows Money Moves, Off-Limits and Kids, Cash and Common Sense. And was also honored with the NATPE IRIS award in the category "On-Camera Talent." When he's not working, Jack can be found at home with his wife Jean and sons Declan and Liam trying to figure out ways to stay off the road.
Comedy Club: Don Gavin
Friday, September 1 & Saturday, September 2- 8:00 PM
Tickets: $39
Don Gavin is considered the Godfather of Boston comedy. He was one of the original founders of the Ding-Ho Comedy Club in Cambridge and Nick's Comedy Club in Boston. Don has toured every state of the union performing in clubs, theatres, colleges, and corporate events. Don has performed in over 100 countries with his work with the USO and cruise ships. Don is lightning quick and a surefire hit wherever he performs. His TV and film credits include David Letterman, "It's All Relative," "Tough Crowd," "Evening at the Improv," "Roast of Denis Leary," Fever Pitch, Shallow Hal, and many others.  Don't miss him this weekend at White Heron!