ABOUT WHITE HERON
Mission

To produce transformative, professional productions of classical and contemporary plays and create innovative educational experiences based on that work.
History

The White Heron Theatre Company believes in the power of theatre to engage audiences in a truthful and compelling journey that touches the human experience through the arts. To accomplish its mission, White Heron fosters the growth of professional theatre on Nantucket Island, across the nation and around the world through a range of artistic and education programs for the Nantucket community and beyond.
Founded in New York City in 2004, by actor/director Lynne Bolton and Yale School of Drama Acting Dean Earle Gister, White Heron was sparked by their shared aspiration to form a professional ensemble-driven company of like-minded artists. In 2012, the company was reborn in Nantucket, becoming the first professional theatre company on the island. Three years later, the company opened the first purpose-built venue on the island dedicated to professional repertory theater. Over the last decade, our production highlights include God of Carnage by Yesmina Reza, Vanya and Sonia and Masha and Spike by Christopher Durang, Seawife by Seth Moore and The Lobbyists, and Private Lives by Noël Coward.
In response to the 2020 novel coronavirus pandemic, we created White Heron Radio Theatre, which has been broadcast on local radio and available on all major podcasting platforms. Our programming includes "The Ghost Light Series," adapted by Mark Shanahan from Nantucket Ghosts: 44 True Accounts by Blue Balliett and "A Nantucket Christmas Carol," also adapted by Shanahan and narrated by Academy Award winner Christopher Plummer.
Our community is home to a sophisticated audience of year-round and summer residents who support—in fact, expect—great art. Led by Lynne Bolton, President and Artistic Director and Michael Kopko, Producing Director, White Heron's core programs consist of: 1) professional productions of classical and contemporary plays; 2) development of new work by emerging and established playwrights; and 3) innovative educational experiences based on that work.
---
White Heron Board of Directors
Advisory Board
Amy Povich Agus
Maureen Fennessy Bousa
Anne Marie Bratton
Scott Bryce
Harriette Fox
Marcus Dean Fuller
Cary Hazlegrove
Sally Horchow
Beth Ann Meehan
Lisa Melillo
Grant Sanders
Ivy Scricco
Catharine Soros
Schuyler Tilney
Melissa Hale Woodman
---
Leadership
Lynne Bolton
President & Artistic Director
Lynne is a professional actor and director. She is the founder and president of the White Heron Theater Company and the Nantucket Theatre Institute; created to produce transformative productions of classical and emerging new plays with an emphasis on creating new work for the American stage.
Ms. Bolton is a member of the Yale Drama School Advisory Board and the Board of the Yale Repertory Theatre. She has served on the Board of the Women's Project, the nation's oldest and largest company dedicated to producing and promoting theater created by women. She has also served on the Advisory Board of the New York City Ballet and an advisory panel for the National Endowment for the Arts. She is a member of the Board of the Yale Center for Faith and Culture.
Ms. Bolton's acting and directing credits include many regional and off-Broadway theatres. Her acting career began at Actor's Theatre of Louisville in 1976 where she began performing as part of a resident company during the bicentennial.
Michael Kopko
Producing Director & Co-Artistic Director
Michael Kopko is the Producing Director of the White Heron Theatre Company. Michael is a former Nantucket Selectman and Chairman of the Board of Selectman for 2 years. During that time he oversaw a $100 million municipal budget and numerous other large operating and capital budgets. Michael owned a restaurant and a lodging establishment and is a life-long musician. He was accepted to the Julliard School for acting and has worked as an actor and director in the theatre for over 30 years.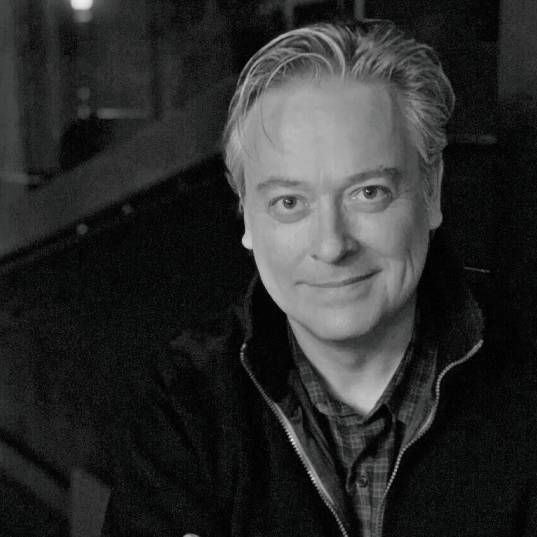 Mark Shanahan
Resident Director
Mark Shanahan is New York based director, writer and actor. As the resident director for White Heron, he has directed PRIVATE LIVES (starring Jeremy Shamos, Nina Hellman, Celia Keenan-Bolger, John Conlee and Jan Neuberger) as well as THE HOUND OF THE BASKERVILLES, DIAL M FOR MURDER and his own play SEE MONSTERS OF THE DEEP, which premiered at White Heron in 2022. He is also the author of A NANTUCKET CHRISTMAS CAROL, adapted from the novella by Charles Dickens, and the creator and author of White Heron Radio Theatre's Ghost Light Series, featuring original radio drama set on Nantucket and starring notables such as Christopher Plummer, Judith Ivey and many more, available on most major streaming platforms.
Additionally, Mark is the author and director of The New York Times' Critic's Pick A SHERLOCK CAROL (nominated 2023 Best Play by the Off Broadway Alliance, playing annually in New York, London and across the United States), and has penned the Off-Broadway and regional hit comedy THE DINGDONG: OR, TAKE ME I'M YOURS! (based on Feydeau's Le Dindon), A MERRY LITTLE CHRISTMAS CAROL and his recent adaptation of AGATHA CHRISTIE'S THE MURDER OF ROGER ACKROYD, premiering at The Tony Award winning Alley Theatre. Mark is an Edgar Award nominee for his adaptation of THE CHRONOLOGY PROTECTION CASE, and co-writer with Gibson Frazier of the short film KILL ME (Adirondack FilmFest).
Mark's directing work has been seen extensively on the New York and London stage, as well as The Alley Theatre, Westport Country Playhouse, Irish Rep, Merrimack Rep, Florida Rep, Weston Playhouse, George Street Playhouse, Virginia Stage, Penguin Rep, The Hangar Theatre, Florida Studio Theatre, The Fulton, Arkansas Rep, Mile Square Theatre, Adirondack Theatre Festival, Cape Playhouse, Theatre Squared, Hudson Stage and many more. As an actor, he appeared on Broadway in THE 39 STEPS and PHILADELPHIA, HERE I COME!, Off-Broadway in TRYST, THE SHAUGHRAN, SMALL WORLD, CHECKERS, AS BEES IN HONEY DROWN and others, and has proudly performed on numerous regional stages and on television. Mark is the curator of the beloved Script-In-Hand and Radio Theatre Series for The Westport Country Playhouse and a faculty member at New York's premiere theatre training studio, Jen Waldman Studio, where he teaches courses on Hitchcock, film adaptation, and playwriting. A graduate of Brown University (BA) and Fordham University (MA). www.mark-shanahan.net