---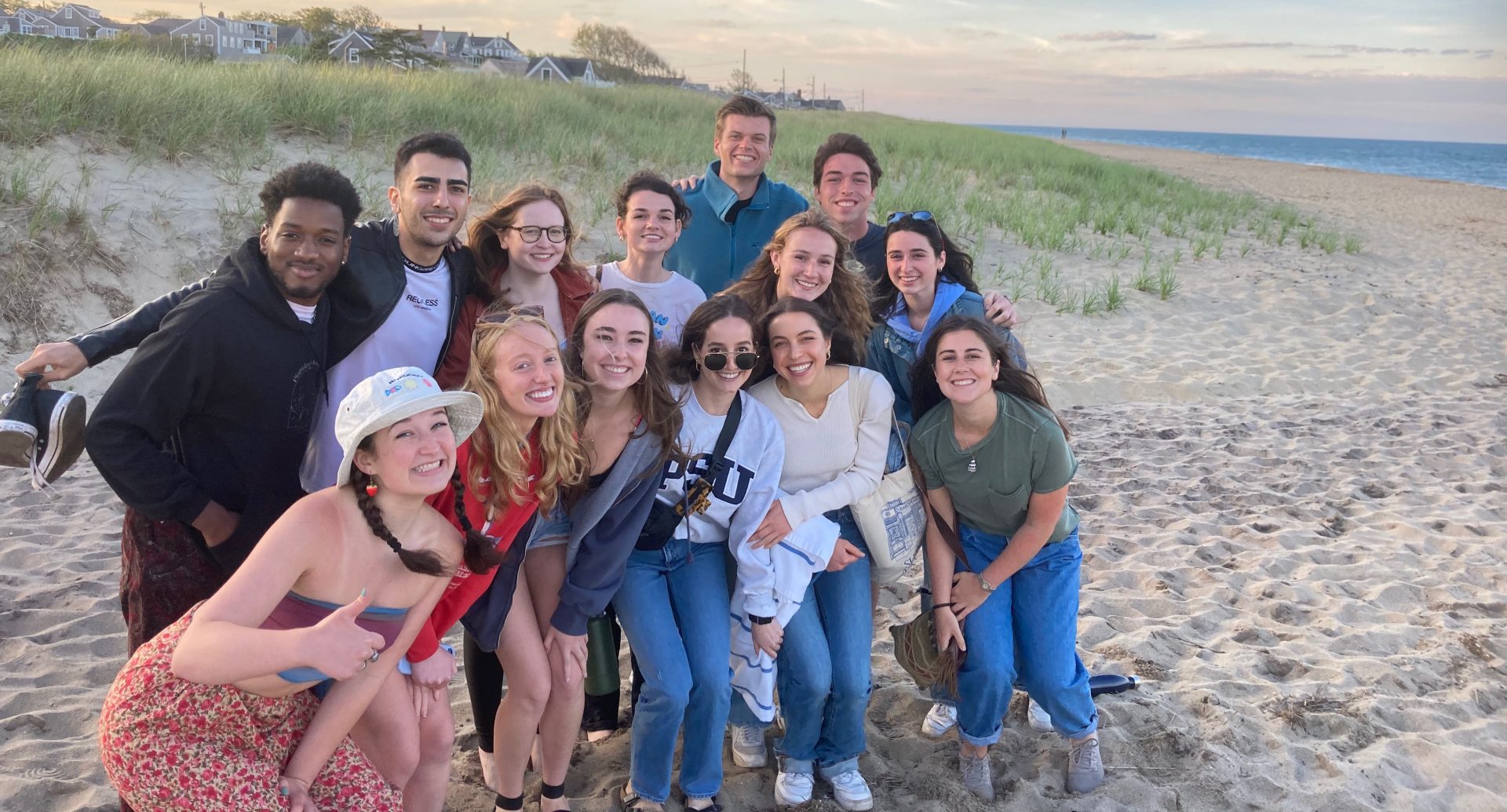 Training & Education at White Heron
Please see below for our current offerings
---
---
The Intensive
An early career training program for actors with industry professionals
June 2023
The Intensive is a pre-professional training opportunity for artists 18 and older, meant to ease the transition into the career. The Intensive's instructors are nationally recognized leaders in the entertainment industry. It is hosted at the White Heron's state-of-the-art facility on the island of Nantucket each June.
The Intensive curriculum includes audition scenarios and on-camera work, access to how casting and artist representation can help shape a career with a seasoned agent, information on website creation, managing social media, as well as other facets of the business aspect of the profession with actors who have worked on Broadway, the West End, HBO and other areas of the entertainment industry. The Intensive will also cover the navigation of different geographical markets such as New York, Los Angeles, and London.
Introducing (just some of)June 2023's instructors: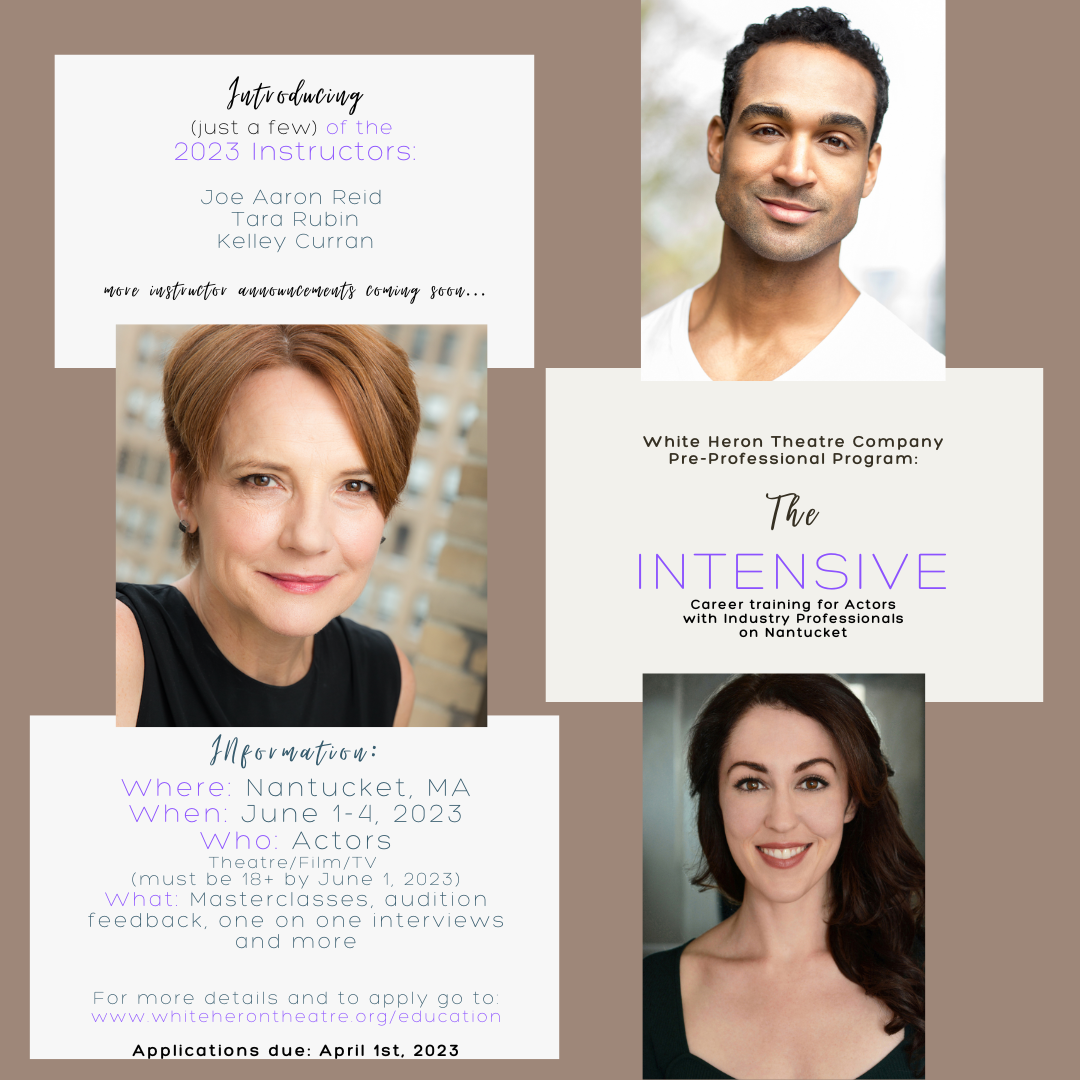 Tara Rubin (Tara Rubin Casting, CSD, NYC)-Tara started her Casting company in 2001, after 15 years as a Casting Director at Johnson-Liff Associates. She and her colleagues have cast the following projects on Broadway and off Broadway: Mamma Mia!, Kpop, Six, Jersey Boys, Les Miserables, Phantom of the Opera, The Heiress, A Time to Kill and more. They also cast for Yale Repertory Theatre and worked with La Jolla Playhouse, Williamstown Theatre Festival and more.
Joe Aaron Reid, an American actor, noted for originating the role of Curtis Taylor Jr. in London's hit West End musical Dreamgirls, opposite Amber Riley ("Glee"). Reid most recently starred in the European premiere of Mark Gerrard's play Steve (Seven Dials Playhouse). He also originated the role of Benny in the West End production of Lin Manuel Miranda's In The Heights. Before working in London, Joe was a resident of both New York City and Los Angeles. Broadway credits include Chicago, and the original casts of If/Then, Ghost, Catch Me If You Can, Finian's Rainbow (revival), and Curtains. Television credits include "Smash," "The Homemade Sketch Show," "It Could Be Worse," and "Robozuna."
Kelley Curran, can currently be seen as Turner on HBO's "The Gilded Age." Broadway: Present Laughter with Kevin Kline. Selected Off-Broadway: Mother of The Maid with Glenn Close (The Public Theater), The Winter's Tale (TFANA), Dracula (Classic Stage Company), Angels in America (Signature Theatre), Sense & Sensibility (Bedlam), Atmosphere of Memory (LAByrinth Theatre Co), 'Tis Pity… (Red Bull), and three seasons with The Acting Company. Regional: The Oresteia (World Premiere adaptation with Shakespeare Theatre Company). Film/TV: "The Man Who Killed Hitler and then The Bigfoot," "The Gilded Age (HBO)," "The Blacklist (ABC)." Her honors include the Callaway Award, NTC Emerging Professional Award, Drama League, Helen Hayes, and Princess Grace Award Nominations. Curran trained at Fordham University at Lincoln Center.
Follow @whiteherontheatre on Instagram for more faculty announcements…
---
---
Introducing…
The Collaboration
A Teen program in partnership with
July & August 2023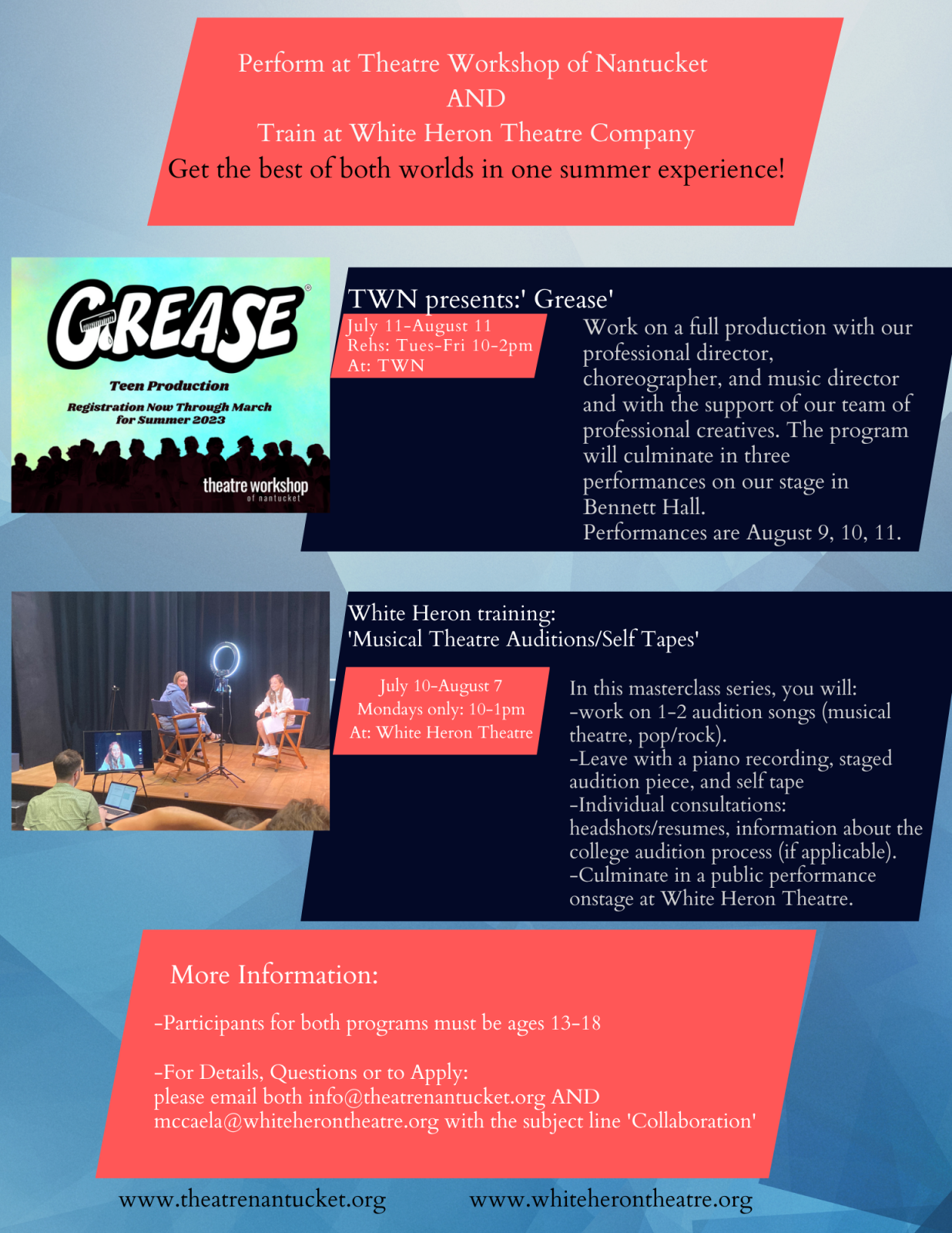 In official partnership, two premiere theatre companies on Nantucket come together to offer the best of both worlds to teen performers ages 13-18. Train at White Heron theatre one morning a week, honing your craft and working on 'Musical Theatre Audition Skills & Self Tapes' throughout July and into August, culminating in a public performance. Spend Tuesday through Friday applying those skills, rehearsing and performing onstage with Theatre Workshop of Nantucket in their Teen production ('Grease', summer 2023- performances August 9, 10, 11).
Learn and network with a myriad of professionals, and perform on the stages of two premiere theatre companies on Nantucket.
For scheduling, pricing, and details please click on application above.
For additional questions please email BOTH: mccaela@whiteherontheatre.org AND info@theatrenantucket.org with the subject line 'The Collaboration'.
Applications submitted by April 1, 2023 will be given priority. You will be contacted by someone from both organizations within 2 weeks upon application submission.
---
---
White Heron's Training & Education branch relies on the generosity of friends, neighbors and patrons of the arts, like you, to help underwrite the cost of creating and producing unique theatrical experiences for the community (including UnScripted talk-backs, Free tickets for Teachers & Students, and our Artist in Residence (A.I.R.) programs) along with our advanced training for dedicated students who are interested in taking their skill-set to the next level. Please consider making a tax deductible gift today!
History
With the grand opening of the theater in the summer of 2016, White Heron Theatre Company was finally poised to pursue the expansion of it's educational mission. In December of 2016, Tiffany Gallo joined the team as managing director of the Institute, now known as the Student Company, and focused on launching the inaugural summer season with Practical Intensives for students that, true to White Heron's mission, related directly back to the work being produced on the White Heron Theatre Company's main stage.
Tiffany broadened the educational opportunities for dedicated student and adult members of the community, through NTI's A.I.R. (Artists In Residence) initiatives and Practical Intensives. These programs offer applicants the opportunity to expand their theatrical knowledge and proficiency, under the tutorage of accomplished artists and theatre educators.
By providing educational Intensives in the various disciplines of the performing arts, White Heron and the Student Company seek to enrich the creative and cultural life of our island community.
In addition to providing theatre education intensives, White Heron and the Student Company are committed to bringing distinctive and diverse new plays to Nantucket; providing a space where artists are free to create, experiment, receive feedback from live audiences, and fine tune their work. This is the final phase in a new play's development as it gains a foothold on the national stage.
White Heron Theatre Company and the Student Company are proud to play a role in the education and creation of new plays for the American Stage.
Our Vision

White Heron's training & educational programming seeks to empower all students to use theatre as a tool for asking big questions about the world and their role in it. We strive to provide students and early career artists, who are dedicated to theatrical pursuits, access to the training and professional skill development that will transition them to the next step in their careers.
Led by a team of professional artists, and often designed in collaboration with other arts organizations and local non-profits, our programs help young artists find their voice and celebrate their interconnectedness to each other and the community.
Our goal at White Heron is to leave each young artists we work with feeling empowered, not only to explore, but to harness their powers of creativity and empathy to affect real change in their community and ultimately their world.
About
White Heron is thrilled to engage young artists and the community in the study of theatrical disciplines by providing access to local and nationally recognized professionals and arts institutions.
You can find us developing new work, collaborating with partner theatres on the island for high school aged programming, holding intensive weekends for early career artists with professionals, residencies at Nantucket High School, and creating art within the community in order to enrich the creative and cultural life of our island.
WHITE HERON TRAINING & EDUCATION STAFF
McCaela Donovan
Interim Managing Director / Director of Training and Education
See About section for more details
You need to select a widget type before you'll see anything here. 🙂
You need to select a widget type before you'll see anything here. 🙂